www.cenb.org.br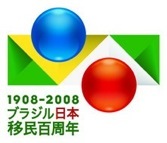 2008 marks the 100th year since the arrival of the first Japanese emigration ship in Brazil.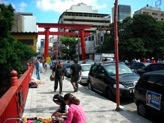 Liberdade, São Paulo, known as "Oriental town."
Centro de Estudos Nipo-Brasileiros
Center for Japanese-Brazilian Studies
The Centro de Estudos Nipo-Brasileiros (CENB) is an independent research institution dedicated to enhancing the understanding of the history of Japanese immigration to Brazil and the lives of those immigrants and their descendants in Brazil.
Since its foundation in 1946, the CENB, which is made up of scholars, journalists, writers, and artists who have published numerous research articles, books, in-depth reports, commentaries, and analyses on a broad range of issues concerning the Japanese-Brazilian population, has been recognized as the leading organization in the field. The scholarship produced by the CENB is used as essential source material not only by researchers world-wide but also by various government agencies, the media (international, national, and local), and NPOs.
The CENB houses a special library with more than 4,000 books concerning the history of the Japanese immigration to Brazil and to other countries and regions. A large part of the library collection is open to visitors.
CENB has also warmly hosted visiting scholars and students from overseas and seeks to further develop its multilingual scholarly network.

Contact Information
Centro de Estudos Nipo-Brasileiros
Address:
Rua São Joaquim 381, 3º andar, sala 38,
CEP 01508-900 São Paulo - SP, Brasil
Phone & Fax:
+55-11-3277-8616
(Monday-Friday, 14pm-18pm)
Email:
contato@cenb.org.br

Copyright © Centro de Estudos Nipo-Brasileiros